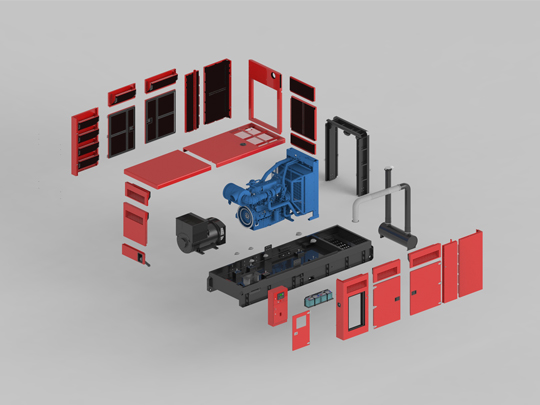 A. WHAT IS CKD / SKD GENERATOR?
1. CKD Generator: CKD stands for Completely Knock down,generator completely knocked down into parts without assembling. It means the supply of engine and alternator.
2. SKD Generator: SKD stands for Semi Knock down. It means the supply of semi-assembled generators. For example, the supply of the engine and alternator mounted on the frame, with or without electric panel, supplied separately.

B. HOW CKD / SKD BENEFITS?
1. Save on import tax
2. Reduce facility investment
3. Lower transportation cost
4. Decrease assembly expense
5. Enhance assembly ability
6. Improve productivity
7. Promote price competitiveness
8. Expand supply scope

C. SUPPLY RANGE OF CKD / SKD ?
We can support the best CKD or SKD generator solution:
1.Engine+base frame+alternator/ engine+alternator+base frame+control system
2.For control System, we are able to provide :
a. ComAp
b. Deepsea
3. Base Frame Tank
4. Soundproof Enclosure
a. Standard Silent Type Canopy Package
b. Rental Type Canopy Package
c. Containerized Canopy Package
5. Other assembly related components

CKD assembly generator parts silent generator canopy
CKD solution service for you, customized design service
Canopy Parts:Includes: Sponge, Locks, Hinges, Door sealing strip, Rain cap, Damping bellows, Muffler, Insulation materials, etc
we offer a wide range of genuine spare parts and professional after-market technical supports service for our customer to perform the daily maintenance services, repairs ,upgrade, overhauls and refurbishment.
We accept customized and OEM order
Our factory has very professional engineer and design team to provide special customize products for you. Client only provide there requirements to us, we can design for you for free. OEM factory is acceptable too. Let our factory to be your own factory.